JCB SEAL KIT 3DX MODEL 2008 SEAL KIT 332Y/3519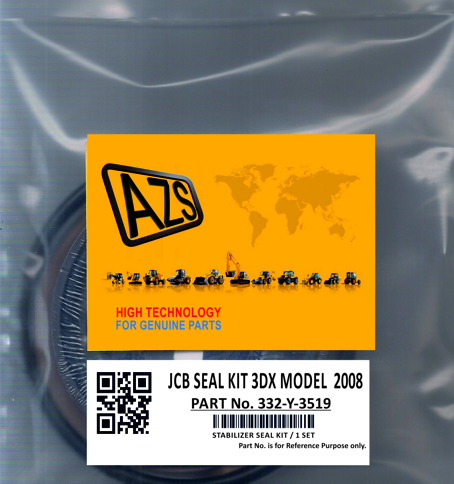 JCB SEAL KIT 3DX MODEL 2008 SEAL KIT 332Y/3519
Price And Quantity
Set/Sets,

500.00 - 5000.00 INR
Product Description
Find Complete Details about Replacement Seal Kit For JCB Part No. 332Y/3519 :-
JCB SEAL KIT 3DX MODEL 2008 Replacement Seal Kit For Part No. 332 Y / 3519
Machine Mfd by

:

JCB

Model No.

:

JCB SEAL KIT 3DX MODEL 2008

Replacement Part Number

:

332 Y / 3519

Description

:

STABILIZER

Quantity

:

One Seal Kit Set

Our Price

:

460

Sales Tax

:

5%

Standard Shipping charge / Delivery costs*

Within India

:

120.00

Other than India

:

750.00

payment collection company charges

:

5%



If there are Multiple Items in your order they may be Shipped Separately with some items arriving before others.
*Standard Shipping charge is for India and other countries where govt of India have no objection and Goods may be delivered by couriers services enlisted with us.
The parts nos., company names, Model, illustration and/or whatsoever mentioned herein are for reference purpose only. We provide replacement spare parts only.
We take pride in our feedback rating. If you are not 100% satisfied, please contact us so we can correct the problem next time.
All entry, Octroi and other Duties & Taxes and formalities shall be yours responsibility for entry into your country / state / local limit / area (if any applicable) as the case may be in order to reach to you.
We, one of the leading Suppliers of JCB Seals and Hydraulic Cylinder JCB Seal Kits, design and supplies complete range of products like Hydraulic Cylinder JCB Seal Kits, JCB Hydraulic Cylinder Seal Kits, JCB Hydraulic Seals, JCB Piston Seals, JCB Rod seals, JCB Wiper Seals, JCB Wear Rings, JCB Dust Seals, JCB O Rings, JCB Back Up Rings and JCB Oring Kits replacement Seals and Seal Kits for other heavy earth-moving, mining and construction machineries.
We provide Seal Kits for various JCB excavators, JCB backhoe, JCB loaders, JCB dumpers, JCB dozers, JCB wheel loaders, JCB forklifts, JCB cranes etc. We keep ready range of seals for various part numbers with OEM references.
For guaranteed top quality products and first class service, contact us. If the Replacement Hydraulic Cylinder JCB Seal Kits for JCB equipment that you need is not listed, then please contact us. We also welcome enquiries for replacement Hydraulic Cylinder Seal Kits for other makes and models of machineries. To find out more about our quality Sealing Kits, use our special Sales Hotline as mentioned above.
PLEASE NOTE: YOUR SEAL KIT MAY LOOK DIFFERENT. IMAGE IS FOR ILLUSTRATION PURPOSE